You can help Swampy's Florida Kickstarter fundraiser!
on
May 30, 2014
at
11:19 am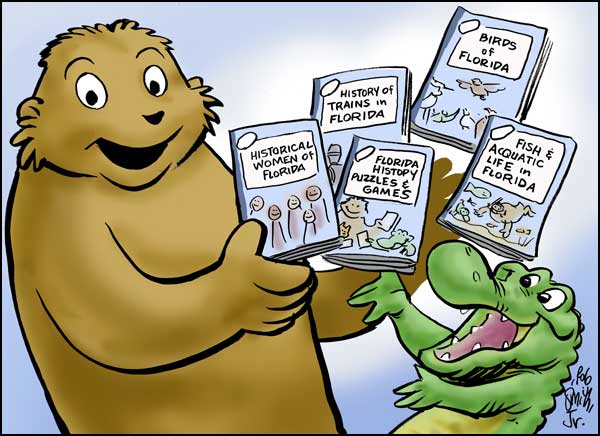 Announcing a Swampy's Florida Kickstarter program to get five Swampy's Florida books produced! Donate $5 or more and get all kinds of Swampy's Florida goodies for your donation!
In the past three years I've produced 14 Swampy books, 37 prints, 2 DVDs and seven cards. There's lots more to come! However, I've poured a ton of time in all of this and have more than run out of resources to produce more without backing. Funding will ensure more educational and activity books available to help young people know more about the great state of Florida.
Click here to head over to Kickstarter!
There's a goal to get five funded by June 21st! Lots of goodies! I'll even try to hand deliver the goodies if the donor falls within my travels this Fall.
The five books are:
–  Historical Women of Florida
– Florida History Puzzles and Games
– A Short History of  trains in Florida
– Birds of Florida
– Fish and Aquatic Life in Florida
All five will be coloring and travel guide books and able to be used in home schooling or just for fun!
There will be constant updates here as I build all five books.
But wait! There's more!
There are four other books involved that are left over prior to the new arrangement with The Knowledge Exchange. These four will also be completed at the same time:
– Polk County- Titusville
– Dunnellon
– Marion County ABC
The funding will also loosen my time to wrap up these four books.
All will be available by Fall.
I hope you will help me in getting these books out and to better help educate our young people of Florida's incredible history, heritage and culture.
Thank you to The Knowledge Exchange, for so much help, and Dave Stewart, who produced the video on the site and gave sage advice, for all their help putting this together. I'll have to share the video here as the next month goes along.
Thank you to all that donate to this project!
I'll be posting updates here as this Kickstarter program continues!