Swampy says Happy National Poetry Day!
on
October 2, 2014
at
4:53 am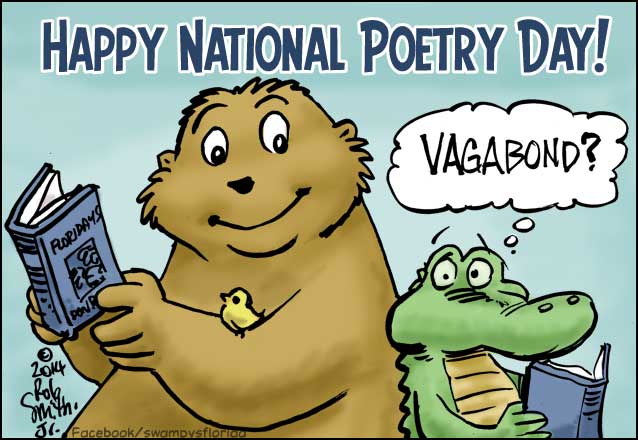 Happy National Poetry Day! Swampy and Zuber dip into the wonderful poetic pool of Don Blandings. Blandings wrote rivers of poetry but is best known for his 'Vagabond's House' collection of poetry. To the point that he's often referred to as Vagabond. He's also well known for 'Floridays', his collection of prose and illustrations he produced from his home, at the time, in Fort Pierce.
Here's a bit of Blanding Florida poetry from Floridays:
Soul of the Land
If I should leave this land and not return,
The colors of its tropic dawns would burn
Behind my eyelids like an opal's flames,
And I would hear the music of the names
That Indians gave to rivers, lakes and streams
Like tom-toms pulsing. Sometimes in my dreams
I'd seek a certain secret jungle place
Where orchids, tangled in the jungle lace,
Are like bright swirls of vivid butterflies.
I'd hear the tropic night alive with cries
Of birds and prowling creatures of the dark.
I'd see jeweled lizards racing on the bark
Of ancient trees gray-veiled with Spanish moss.
I'd see the sun reflecting golden gloss
Of citrus groves and sense the rich perfume
That scents the silver of the moons that loom
Above this savage land. A thousand scenes
Would crowd my memory-book … the living greens
Of forest and the changing blues of seas.
A tapestry of treasured memories.
One picture more than all, would seem to hold
This land's great soul inframed in tawny gold,
A picture that will ever haunt my eyes . . .
Wrought-iron trees against vast stained-glass skies.
~Don Blanding
Nabbed the above from http://www.trailtherapy.org
#NationalPoetryDay #PoetryDay