About Swampy's Florida!
Swampy's Florida is dedicated to the late, great Bill Partington and  Ken Morrison.
Swampy's Florida features the ever wandering creature Swampy and his friends as they travel Florida and learn about Florida's history. Follow Swampy and his friends through their Coloring and Travel Guides, Prints and Post Cards.   Each one is created based on an actual place you can visit in Florida.
To find out how to experience Florida with Swampy and his friends visit our Amazon Web Store!
Follow us closely because during the week postcards, ads, photos and other Florida memorabilia from the Swampy collection is featured.
On the weekend, if Swampy is on the road, it's 'Swampy's Travels' at unique locations. This feature is available on the Swampy Facebook and Twitter sites.
Various stories from across Florida appear other wise. Though most of those are, also, on Swampy's Twitter page and Swampy's Facebook Page.
______________________________________________________________
Who is Swampy, the Swamp Ape?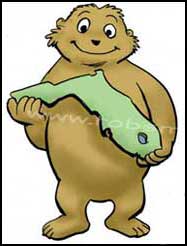 * Swampy: Swampy is one of the legendary 7' tall Swamp Apes, or skunk apes, that has lived for centuries across Florida. This series chronicles his adventures over the history of the state. These days you can find Swampy with his pals Pasco Pete, Trilby, the baby alligator, and Zuber the cat roaming the state. Swampy works hard so that everyone can better know the history and heritage of Florida, along with the best places to visit across the state.
Here are Swampy's friends: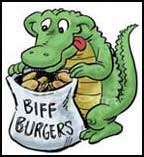 * Trilby, the baby alligator: Trilby was found by Swampy during a cross state trip.
Trilby is named after a community in Pasco County, just north of Dade City.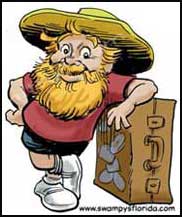 * Pasco Pete: Pasco Pete runs the Gumbo Limbo Motel and Carwash, or whatever it's name is at any one time. He found Swampy camped out in his backyard in Ochopee. They've been pals ever since. Pasco Pete tries to keep Swampy a secret as Swampy would like.
Pasco Pete is named after Samuel Pasco of Pasco County, Florida. Pete is derived from St. Petersburg, named after Saint Petersburg, Russia.
* Zuber: the cat: Zuber wandered into Pasco Pete's 'Gumbo Limbo Motel'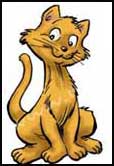 years ago. He now goes along with Swampy, Triby and Pasco Pete on their adventures.  Zuber is naned after a nearly forgotten community in Marion County, just north of Ocala.
Others who appear with Swampy:
* Alva: A little Florida mouse who silently joins the gang in their fun. Alva is named after the little community outside Fort Myers in Lee County. Introduced in August 2014.
* Hudson: The hog. Named after the community in western most Pasco County. Introduced in February 2015.
* Penney: The chicken. Named after the retreat, Penney Farms, created by department store creator, J.C.Penney. Introduced in 2014.
* Ortona: The egret. Named after the community in southwest Glades County. Introduced in 2014.
* Vernon: The racoon. Introduced in 2013.
* Milton: The turtle. Introduced in 2013.
* Gretna: The pelican. Introduced in 2013.
* Mary Esther: The sea gull. Introduced in 2013.
* Sneads: A bat who occasionally joins the gang in their fun. Sneads is named after the small community near the Alabama border in the Panhandle. Introduced in August 2014.
* Vero: A golden retriever who occasionally joins the gang in their fun. Introduced in September 2014.
* Davie: A Florida black bear. Introduced in July 2015.
* Haywood: A hawk. Introduced in February 2016.
* Bunny: The granddaughter: Folks forget how many bunnies are throughout the state. There are as many bunnies as alligators.
* Ma Watson, Swamp Ape Hunter: Ma Watson is an amalgam of names, Ma Barker and Edgar Watson. Ma Barker was an infamous bank robber who met her fate in Ocklawaha, Florida. Edgar Watson was an infamous killer across the U.S. with a legend of gunning down Belle Starr. He met a mysterious fate in Chokoloskee, Florida. Writer Peter Matthiessen well chronicles this story in 'Killing Mr. Watson'.
* Ike Mowen: Is Mike Owen who is the plant biologist at the Fakahatchee Strand Preserve in Collier County.
* Bradley Coleman: Mayor of Ochopee.
Bradley is from railroad magnate's Henry Plant's middle name. Coleman is named after the community of Coleman in Sumter County named after the founder.
* Micco: The Seminole/ Creek word for chief or leader is Micco or Miko
* Crystal: The manatee. Introduced in March 2015.
* Collier: The puppy. Introduced in March 2015
* Fernandina: The fish. Introduced January 2014.

Save
Save
Save
Save
Save