Swampy's Travels Today: Along the Withlacoochee River.
on
May 16, 2014
at
10:09 pm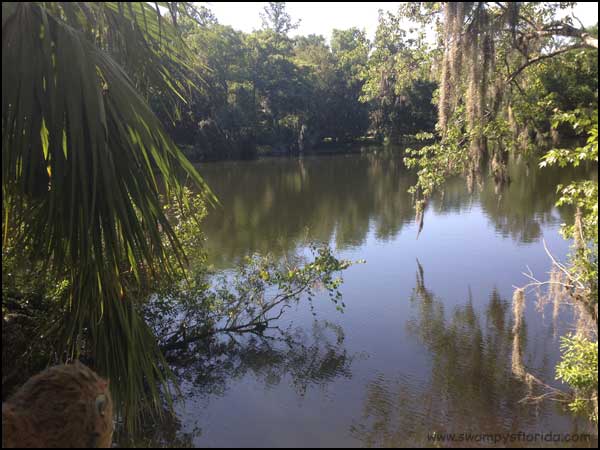 Swampy visited the Dunnellon Bridge that opened today to connect a paved right-of-way for people to travel on to get to the hiking trail of the Cross Florida Greenway. There was a grand opening ceremony that many from Marion County, Citrus County, the City of Dunnellon and Ocala and the Florida Trail Association attended.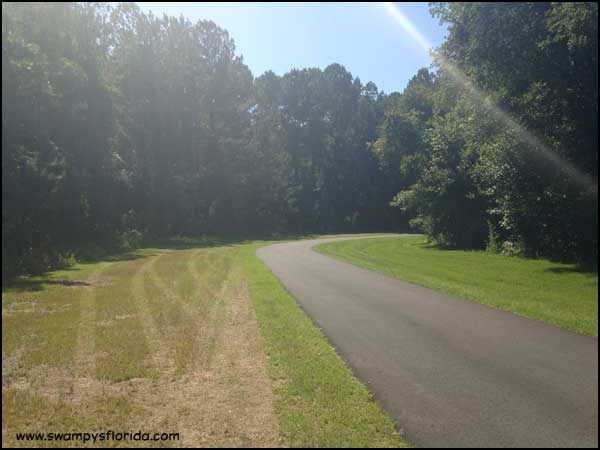 This is what the pathway looks like leading up to the bridge. It is a hot walk and folks need to be sure to carry water with them walking this roadway. Also watch out for people on bicycles that were racing this thing while I was there.
The bridge is a mighty fancy thing. Notice the concrete swale along the bridge.There are all sorts of swales, culverts and other forms of stormwater controls all over this project that are real head scratchers. If the river gets as high as the bridge, the City of Dunnellon will be under water, which will be a far worse problem than water collecting on a bridge. Which leads to the silliness of the swale. The bridge is wide open for rainwater to flow into the river. The swale would only be useful if the river flooded. But the swale leads the water right back into the river. Of course this whole area is under water if that happens. Why on earth is there a swale on both sides of the bridge? This whole projects is riddled in riddles like this.
No Swampys in these photos. Wasn't going to post them. There's also a ton of video I shot. Frustrated with this and disappointed with the excess. Apparently the mindset was to build a right-of-way for emergency vehicles than a hiking trail, which was the original intent. I recommend going to other nearby access points to the Withlacoochee, such as Oxbow. Or head over to the Cross Florida Greenway. My grave concern is the plan to cross this with the Greenway. Gonna be mighty mad and will fight attempts to pave the Greenway.