on
July 26, 2014
at
12:15 pm
Source: Yesterday's Florida, Vol. 3, page 20 & Florida Statutes.
Florida, Land Of Images by Nixon Smiley
My rating: 4 of 5 stars
Nixon Smiley has collected a series of informative essays of various historical markers in Florida history. Each is very well written and most provide a very good back story to the points in history. I wish he had more details not otherwise found in so many other volumes, but I'm not sure how unique this book was when this book was published in 1972.
There are certainly better books that cover the material here more thoroughly, but this is a nice volume to introduce people to our fantastic Florida history.
The illustrations by Bob Lamme are very good.
Bottom line: I recommend this book.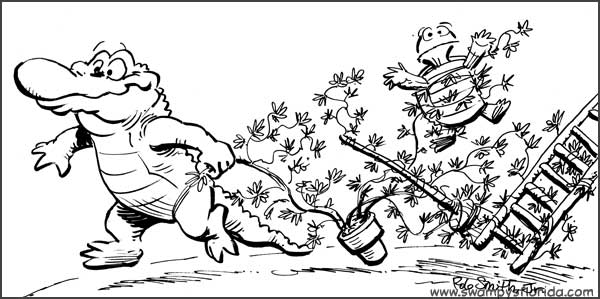 It's 'Take Your Houseplant For A Walk Day' and Trilby, the baby alligator, takes his Virginia Creeper down the road.
To find the houseplant best for your home, check with the Florida Native Plant Society.
This is St. James Catholic Cathedral in Orlando that is still standing in the same spot and looks nearly identical now as it did in the postcard above.
Click here to learn more and to plan a visit to the church.
There's not a postmark on this postcard, though it appears to be of around 1950.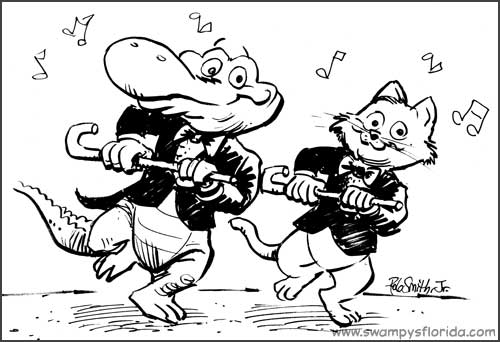 Thought I'd add another to the "National" whatever days with this for National Dance Day. This "Day" was started recently by a television program to promote their program.
So here is Trilby, the baby alligator, and Zuber, the cat, tapping their way across a stage at Ruth Eckerd Hall.
See how I tied Florida into this post!

Here's the Bretton Inn that was once in Ormond Beach. The postcard was mailed January 30th, 1914. The card was mailed ot Mrs. Frank Sanborn in Franconia, New York.