Swampy's Postcard Saturday: Sanlando Springs – Nature's Fairyland
on
July 12, 2014
at
12:59 am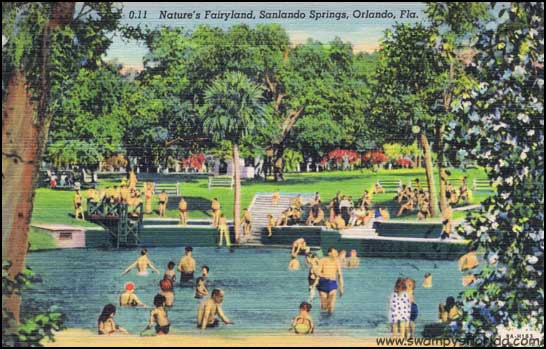 Sanlando Springs was a very popular swimming spot near Longwood in Seminole County. The park began during the Florida boom in 1926 and included a hotel. The park changed hands a few times over the years. For much of the time the park was also known as a botanical and swimming park. Along the way an enormous slide was a favorite feature.
The park changed hands in 1970 to developers that built a residential community and enclosed the spring into the gated development. The slide, hotel and botanical features were wiped away. Today it is a private swimming area for residents.
This postcard wasn't mailed and there is no other date on it. Have to speculate it is from the 1950s.
Please leave any memories you have in the comment area below.