Swampy's Postcard Thursday: Lester's New Diner, Fort Lauderdale, @ 1967.
on
July 24, 2014
at
10:00 pm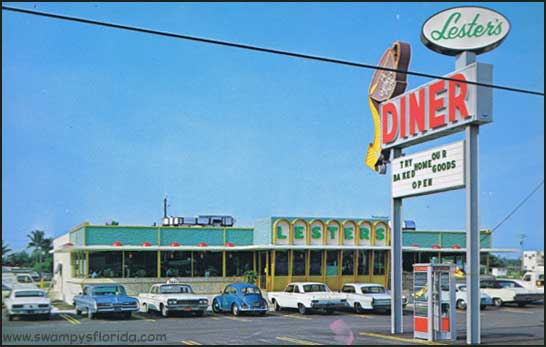 Lester's opened this Fort Lauderdale location in 1967 and it is still there today. there are two more that also can be found in Broward County.
You can go to the website and plan a visit to Lester's by clicking here. The website only mentions the three diners in Broward County. However on the back of the postcard, many other locations in other states are listed. A bit of poking around on the internet and some of those are still open in Michigan and Ohio. Wonder wy they aren't connected any more. Please leave anything you know in the comments below.
This is interesting on the back of the postcard: "Our Specialty, complete dinner, $1.00 and choice broiled Del Monico Steak".