Swampy says Happy National Sponge Cake Day!
on
August 23, 2014
at
2:54 pm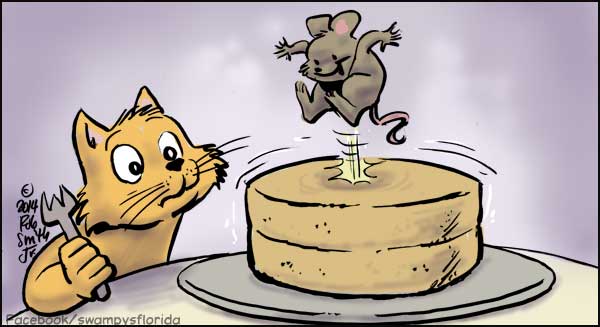 Here's Alva, the mouse, trying out the sponge cake for National Sponge Cake day!
Highlighting the amazing sponge cakes at
Cafe Mozart / German Bakery
in St. Petersburg. Cafe Mozart is a German Bakery that serves everything from muffins to pies. They whip up a series of tasty tortes with a base of sponge cake. Their tortes include Black Forest, Mocha, Chocolate Mousse, Fruit, Hazelnut and Truffle Tortes. There is also the Sacher Torte, which is chocolate sponge cake with apricot jam.
Click here to learn more about the tortes available and how to get one yourself from this locally owned and operated bakery.
Here is the contact information of Cafe Mozart in St. Petersburg:
#NationalSpongeCakeDay
#SpongeCakeday
Here's where Cafe Mozart is:

View Larger Map