Swampy says Happy Banana Split Day!
on
August 25, 2014
at
4:07 am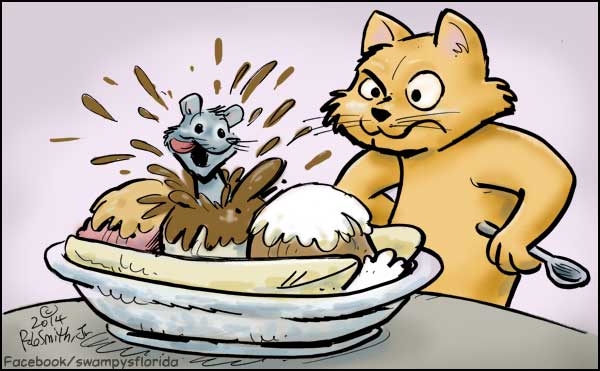 Alva, the mouse, got a head start of Banana Split Day before Zuber can celebrate.
An exciting and unique place to get a banana split is Jaxson's Ice Cream Parlor in Dania Beach. Memorabilia decorates the entire establishment. The restaurant will harken those that remember to the days of Farrell's Ice Cream Parlor. The ice cream menu is extensive ! Click here for the menu for Jaxson's.
Warnings: The prices are steep and the wait to get in can be long. An odd combination, I know. Supply and demand, as it's called.
Here's the address and telephone number for Jaxson's:
128 S Federal Highway
Dania Beach,  33004
(954) 923-4445
Here's where Jaxson's is:

View Larger Map