Swampy says Happy Burger Day with BIFF Burgers!
on
August 27, 2014
at
4:58 am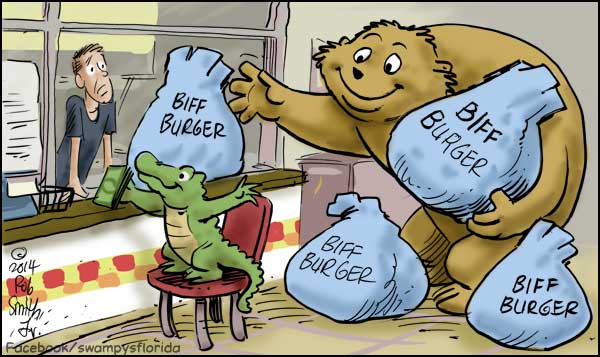 Swampy celebrates Burger Day by picking up a few bags of burgers from St. Petersburg's BIFF Burger. BIFF Burger has been a popular spot for burgers in Pinellas County for over fifty years. At one time BIFF Burger shops were all over Florida and other parts of teh country. Today there is just one. They still serve there special sauce on their burgers and people still pack in to graqb a sack full.
Over the years the location as added add Bar-B-Q, an ice cream fountain and a bar. You'll find children there getting an ice cream sundae to bikers stopping by for a drink to watch some sports game. Certainly BIFF Burger is one of the busiest gathering spots in Florida.
Here's BIFF Burger's information:
3939 49th St N,
St Petersburg,  33709
(727) 527-5297
Click here for BIFF Burger's website.
#BurgerDay