Swampy's #Florida Travels: Meeting with former Mayor of Surfside, Marion Portman
on
September 29, 2015
at
8:36 pm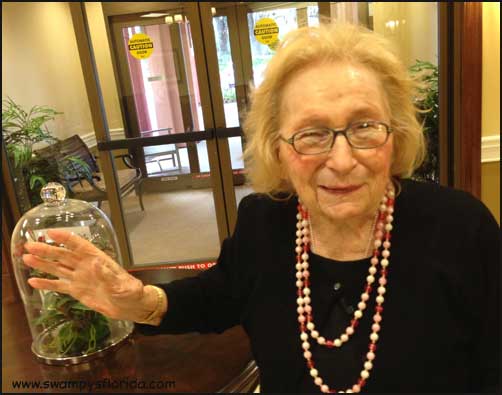 Last night got to spend some time talking Florida politics and south Florida with Marion Portman, former Mayor of Surfside, just north of Miami Beach. She's 92 now and living in The Villages. She was the first female mayor in Dade County.
I showed her the postcard posted here yesterday of Wolfie's and a huge smile crossed her face. She tells of meeting her almost husband in front of the restaurant decades ago. She ran into him as she was leaving and he was walking his dog past. They dated for 27 years, but never married. She said it was because she had 4 children and he had 3 and they didn't mix well.
I hope to meet with Ms. Portman again soon!
(By the way, I was caught off guard all day by these sudden encounters and did not have Swamp handy. I've got to do better about that! 🙂 )