Swampy's #Florida says Happy National Farm Toy Show Days!
on
November 3, 2017
at
10:44 am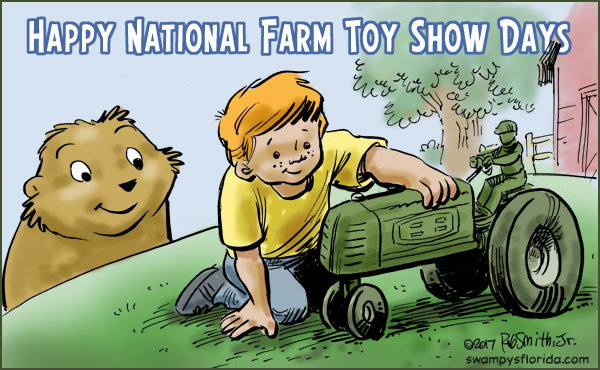 In Swampy's travels over time he has seen many a wee child play with toys. Toys are played a lot less these days. Decades ago playing with toys were also a rite of passage to future endeavors for young people. It was normal to find the young of Florida farm families playing with toy tractors or in piles of hay. Since farming was part of everyday life for most Floridians, farm toys were very popular.
Many native Florida farmers can tell you tales of playing with farm toys. Most of our Florida history museums have farm toys as part of their exhibits. The Florida Pioneer Village in Dade City has a very good exhibit of farm toys. Please visit to see those!
You can plan a trip to the Florida Pioneer Village by clicking here: http://www.pioneerfloridamuseum.org/
You can learn more about National farm Toy Show Days by clicking here:
http://www.toyfarmer.com/2017-national-farm-toy-showreg.html
#NationalFarmToyShow #FarmToyShow