Swampy's Historic Photos: Train Station in Downtown Miami, around 1950.
on
August 24, 2012
at
11:20 am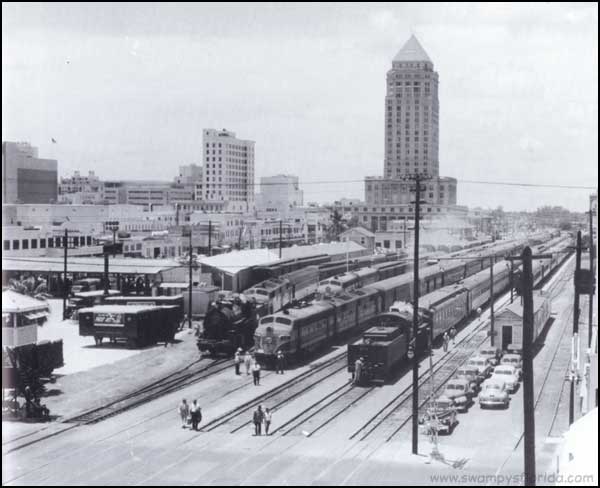 It's around 1950 in this photo of the Miami train station. The tall building is the Dade County Courthouse. If you follow that down closer to ground level, you'll see the actual station that's a bit obscured by steam.
1950 was a boom time in Florida. After World War II, thousands of soldiers who had been based in Florida to one degree or another decided to move to the state. Home construction and industry was booming. Not to the frenzy fantasy degree of the 1920s. Actual construction was happening everywhere. Businesses were springing up everywhere and hiring. Tourism was having it's best days since the 1950s and hotels & motels were established. People were coming from everywhere. Trains were still one of the best ways to come to Florida in 1950, as commercial planes were still getting off the ground and a highway system for cars was just being decided. The Miami Station saw the greatest activity in the state in around 1950.
This photo is from 'Speedway to Sunshine' by Seth Bramson.
You can can get your copy of this history of the Florida East Coast Railway by clicking here.