Swampy's Postcard Saturday: Yogi Bear Campground, Kissimmee, 1970s.
on
September 27, 2012
at
1:00 am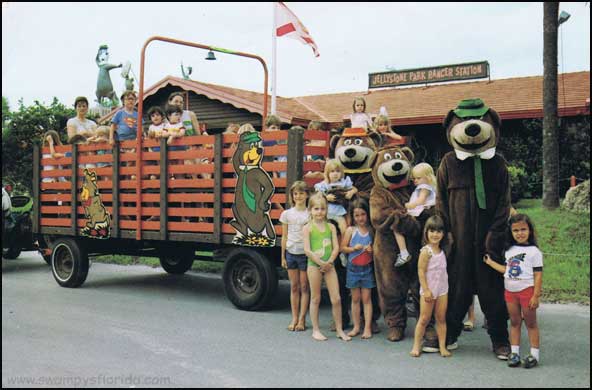 Here's a large, undated postcard for Yogi Bear's Jellystone Camp-Resort on west US 192 in Kissimmee, just south of Disney World. This was one of two in the area. The other one was about five miles away on Turkey Lake Road south of Sand Lake Road in south Orange County. Both are gone now.
This location has a few of the original buildings that were along US192, like the one above. See the street level view below.The map indicates the original street names in the camp ground are still being used: Yogi Bear Boulevard and Ranger Road.
The bulk of the park has been sold to a developer that is developing Lighthouse Resort and Spa, a timeshare project. The old campground is surrounded by timeshare developments. To the west is Vista Del Lago. To the west is Orange Lake Resort that was built by Kimmons Wilson, who founded Holiday Inn.
Here's a view of the former location:

View Larger Map