Swampy's Historic Photos: Downtown Auburndale, 1913.
on
August 8, 2013
at
3:05 pm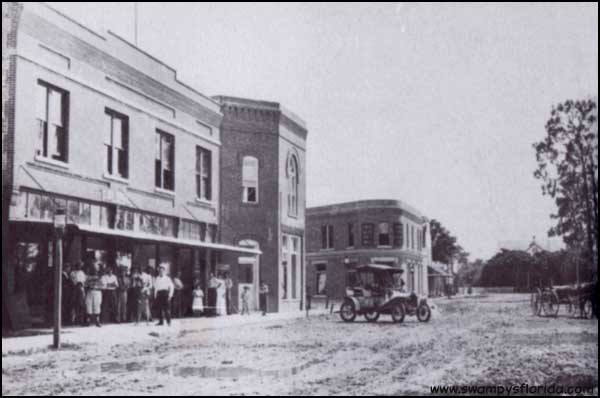 This is Downtown Auburndale in 1913. The year before a fire had brought the area to the ground. Before the 1912 fire, the Downtown was built of wood. The town builders turned to brick and that is what you see here.Something to note here is something that was also common in the western U.S. Not only were there dirt roads to drive to ride on, there were issues that made them hard to even walk on. First, our frequent rain made the roads muddy and difficult. The high humidity kept the roads dampt, also. What really added to the messy travel were the horses that were always coming through. This time period was prior to Pooper Scoopers and horses left messes everywhere. Add that to the mud and walking in the roadway would just about guarantee ruining clothes. It's one reason why tall boots were not just a fashion statement.
Hard to believe how fast the rebuilding happened these days. Shows what a community can do together.
A post following this will show what this area looked like a year later.
This photo is from 'Yesterday's Polk County' by Louise Frisbie.
You can purchase a copy by clicking here or below.