Swampy's Books: Elmore Leonard, 1925-2013.
on
August 20, 2013
at
3:03 pm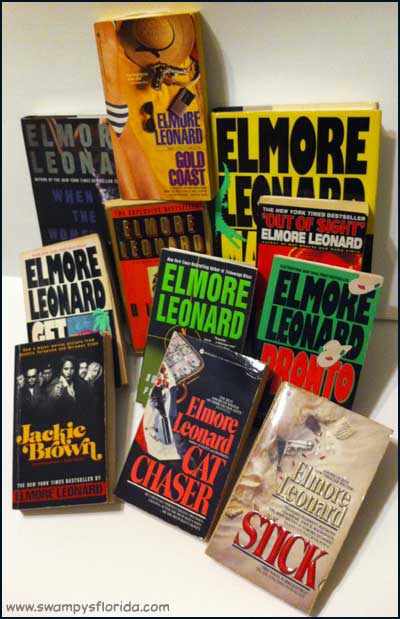 Sorry to learn of the death of the prolific author, Elmore Leonard. Besides his writings with weastern and Detroit settings were his many books with Florida settings. Many of which are seen above. Settings mostly focused on Dade and Palm Beach Counties, Leonard made full use of the headlines and the voracious appetite the criminal underworld has in our state. His quirky characters so well reflected the many ne'er-do-wells that move into the state.
That was one thing he differently than Hiassen and, later, Tim Dorsey, Leonard's characters were mostly from out of state. A big exception to that were the nutty characters in 'Maximum Bob', which later became a television series starring Beau Bridges.
That's something else Leonard accomplished, getting Florida on film. From 'Out of Sight' to Burt Reynolds in 'Stick' to the short lived television series 'Karen Sisco', Leonard brought film crews into our state to depist it for generations to come.
Many in tourist promoting would say Leonard's books and then films did not put Florida in the kindest light, but in a funny, quirky, over-kilter light – and really, isn't that what Florida tends to be, anyway?
We'll miss Leonards writings about our state, but cherish what he did get down on paper as will generations to come.
Click here to go to the Elmore Leonard website.