Swampy's Postcard Thursday: Stars Hall of Fame, south Orange County, early '80s.
on
August 29, 2013
at
2:58 am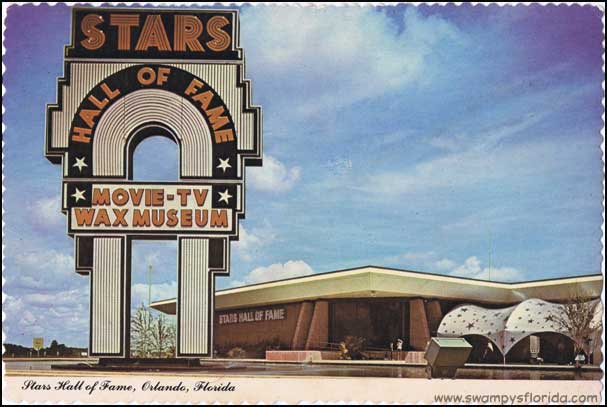 Stars Hall of Fame wax museum featured about 200 figures from Fred Astaire to Roy Clark to Henry Winkler as 'the Fonz'. Folks could get a photo with Frankenstein. There were also opportunities to meet major celebrities who would cast their hand and feet prints at the museum.
I happened to draw caricatures here in the last years of the attraction. While there got to meet many celebrities from Adam West to Michael Jackson. Got to also meet personal hero of the airwaves, Paul Harvey.
Stars opened in 1975 and shuttered in 1984. The reasons for the closing lead to many stories.
The structure still stands today as part of the Sea World property. Construction recently started on apartments that take up part of the old parking lot. Might want to take a peek of the building, that can be seen off I-4 and the beginning of the Beeline/Beachline/State Road 528. It looks like it might shortly goes away.