Swampy's Postcard Monday: Downtown, Ocala, 1950s.
on
November 11, 2013
at
10:26 am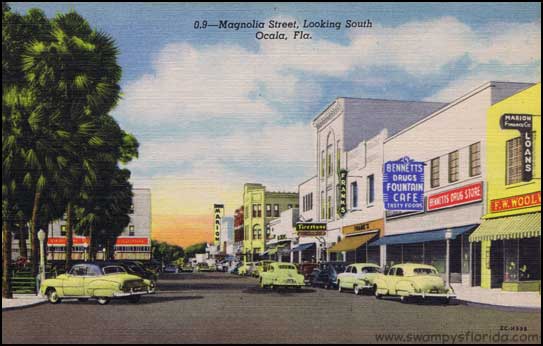 Here's Downtown Ocala nearly 60 years ago. The stores have changed, but the structures are almost just as they were then. Click here to make plans to visit Downtown Ocala. The area is in the process of being decked out for Christmas, so expect to find a lot of lights! Especially in the palm trees that stand much as they do in this postcard.
In the background you can see the Marion Theatre. The building has seen the theatre come and go. It's back now and the only business shown in this postcard that still exists. You can go and step back in time a bit to see a current film. Click here to make plans to visit.
The postcard wasn't mailed, so there isn't a postmark.