Swampy says Goodbye to Chicken Month!
on
October 1, 2014
at
1:44 am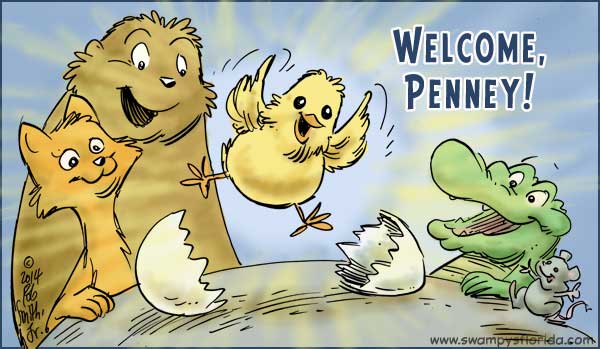 September was finished and so has the end of Chicken Month!
Zuber's egg has hatched and a chick is born!
Thank you all for the name suggestions!
Introducing Penney the chick!
Thank you, Julie Pointer of Julianne's Coastal Cottage in Mount Dora for this name!
Penney would be named for Penney Farms in Clay County. Store magnate, J.C. Penney, wanted to start a community for retired ministers as his father was. The Florida economic cash of 1926 and '28 created a speed bump to Penney's dreams. The Penney dreams were eventually realized and today the retirement community welcomes all retired ministers and families and others of the church.