Swampy's #Florida says Happy Teddy Bear Day!
on
September 9, 2017
at
2:00 am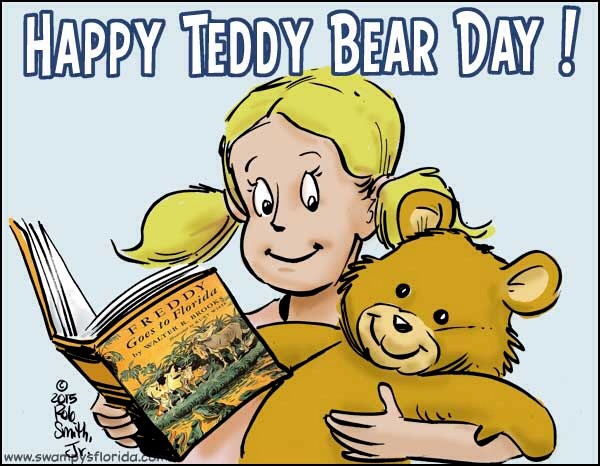 Bunny cuddles up with a copy of 'Freddy goes to Florida' and her Teddy Bear.
Walter Brooks began writing a series of books in the mid-1920s about a farm of talking animals that included a pig named Freddy. The first of the series was originally named 'To and Again'. The story involved the farm animals leaving their farm in New York and heading to Florida. The farm animals get into plenty of adventures while in Florida from bank robbers to herds of alligators.
The book came out in 1927 and 25 more farm animal stories followed featuring Freddy. Eventually 'To and Again' was renamed 'Freddy goes to Florida' and became a mainstay of children's libraries all over the world.
You can get your own copy of 'Freddy goes to Florida' by clicking here: 
http://amzn.to/1K8hUbL
Click here to see a list of the Freddy series: 
http://www.freddythepig.org/bibliography.htm
#TeddyBearDay